OK. How About Just My 6 Exclusive E-Books?
And you're going to think I'm insane...
And I'm going to put all my chips on the table for you.
I'm going to give you the exact same offer you saw on the last page, but without personal coaching...
...and I'm going to cut the price dramatically.
I am going to offer you all 6 exclusive ADVANCED e-books that you saw on the last page...
...for just a single one-time payment of $69.95.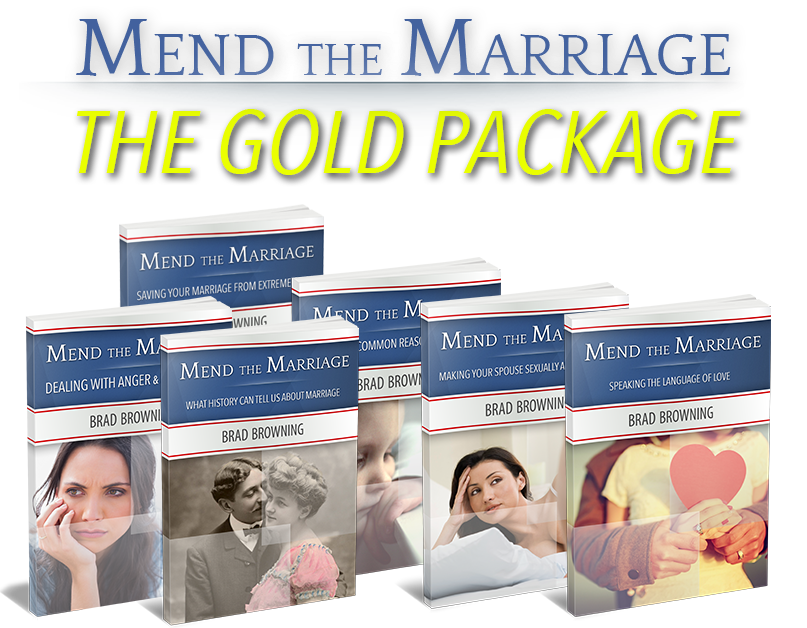 Just $69.95 For Everything You See Above.
Click the "Add To My Order" button below to take advantage of this extremely generous, limited-time offer and get started in the next 2 minutes. You can still cancel whenever you want, and you're still protected by my money-back guarantee.
Risk-Free Acceptance Form
Yes! I want to upgrade my order of Mend the Marriage to include Brad Browning's exclusive GOLD Package!
I understand that my order will be processed by ClickBank, the world's leading retailer for digital products. My purchase is 100% encrypted and secure.
I understand that I can still take advantage of your 60-day money back guarantee!
Yes, Brad! I Want The GOLD Edition To Increase My Chances Of Fixing My Marriage!